You know that feeling when you just get off a treadmill? Things are moving a million miles an hour around you and you feel like your floating through space?
Well, apparently living off-the-grid in the remote Amazon rainforest for a few months and diving straight into thousands of emails and back to back meetings is a similar sensation.
Anyways, welcome back! I have so many stories to share with you since the last time I have written to you...before we begin: WHY ARE YOU ALIVE? (WHAT IS YOUR LIFE MISSION?).

That question saved my life. Ill explain later here.
Time in the Amazon has clarified the answer to this hefty question for me, and many, many others! I invite you to find the answers to your life-long inquiries here too.
I knew the first day that I arrived in the small town of Puerto Maldonado (considered "the entrance to the jungle" in Madre de Dios, Peru), that I was in for much, much more than what I had consciously signed up for when booking my flights...as stories of people in this town told, one of the may powers of the Amazon is intensifying people's life missions.
My life mission was already clear before arrival. I was actually surprised to find that I could be mentally clearer, more emotionally engaged and energetically lighter than I already was. As I take off from this beautiful Amazonian adventure--filled with memories with some of the most inspiring people and places on planet living remotely here-I feel like I would rather die than quit making my newly intensified life mission into fruition. It is really that dire.
To summarize: The Amazon feeds your soul fire. Now I get to share that soul fire with you! This can happen in two ways. 1. Come back to the Amazon with me! 2. In the meantime, here are a few short stories fueled by the power and wisdom of the Amazon.
There is a lot of time to think--on long walks through the jungle at sunrise and at sunset, siesta in the hot afternoons, and completing tedious jungle-life chores like counting hundreds of leaves on cacao leaves to measure productivity, planting, harvesting, cooking, cleaning, etc. (although I find these things to be quite meditative and enjoyable!).
There are a lot of tests to your human competence--balance tests tip toeing across rain storm fallen log "bridges" over the raging high water rivers, squeamish tests being covered in squishy mud when the paths are flooded and its impossibly not to sink in at some point, patience test when every kind of strange insect you've ever seen trying to make friends with you or eat you.
There is also a lot of exploration of the sub-conscious and self-discovery that happens! Dreams are heightened that reveal our deepest desires and ways to move through our greatest fears in life (even people who don't usually remember their dreams suddenly seem to). The jungle is also home to many healers and guides like medicine people, shamans and energy workers... There is space to create or celebrate really thing imaginable. At our eco-lodge for example, dance parties take place almost nightly under the most glowing version of stars and moonlight peaking through the canopy...that's just a personal favorite.
So what does all this this mean in the context of life?
Nothing, intrinsically!
But for every single one of the 32 people that came to visit while I was down there, "the time, these tests and this space" changed everything...
Here are some of the ways the Amazon impacted us the most:
Francesca was able to heal her two year paralysis and temporary brain trauma through working with the local shamans. She is now living a more fulfilling life of doing editorial makeup for brands she believes in like Fashion for Conservation! (and practicing energy healing work).
Dawn started a three year project creating an editorial fashion cookbook on recipes from the jungle with a local chef named Roy. She is also leading photography retreats next year because she takes amazing photos, like the ones on this blog post. Her friends say that she "seems different" since she has been back...because she is. She feels "more alive" these days.
Marie faced many fears. Most literally her fears of bugs, spiders and strange wildlife encounters. She can even walk barefoot through the jungle now. She is now fearless in every part of her life and continues a daily meditation practice.
Renee had her come to Jesus moment about every relationship in her life and a plan on how to move forward (or let go) with every one. She stuck to her plans, for the most part. She's happy.
Rhonda renewed her sense of calm through connecting with nature every day-swimming in the creek and walking through the jungle. She still carries that calm with her throughout her busy life as a journalist for the Hollywood reporter
Music artists Elle and Lara were inspired to write a new hit single about the jungle, wrote it and filmed a music video for it in the jungle...music for conservation! They are the U.K. ambassadors for Fashion for Conservation and now have a deeper personal connection to the movement.
Elizabeth found new depth in her path transitioning from a global Top Shop manager to a yogi through a vision about her past life and how her practice can help clear her karmic cycle. She is lighter, happier and excited to run an Amazonian Yoga retreat the first week of January, 2019!
Bonnie deepened her life mission of "healing" by grounding with the earth off duty of her normally very intense job as an FBI agent and "leisure" of being a US Volleyball Olympian.
Here's a subtle one but one of my favorites: Matt, an international muralist who exclusively painted elephants under the name "Roaming Elephant", discovered a love and passion for painting murals of Macaws and other local wildlife with the local communities. He feels that perhaps the Macaw he painted is the past life to the elephants he painted side by side to it :)
The locals also benefited from having these entrepreneurial & creative people around them!
Roy (local chef) initiated another part of his dream to share his knowledge of food and medicine through many mediums by starting the fashion cookbook with Dawn!
Bella and Lola learned how to start and grow their own business with their artisan jewelry and bags with the guidance of other entrepreneurs and designers on the trip.
Children in local communities learned how to paint with Matt, and the main buildings got makeovers!
As for me, well I don't really know where to begin...
That's why I am writing an entire book about it! "Barefeet or Stilettos" is coming out June, 2019.
Here are a few highlights from my adventures in Peru:
- My back pain of 6 years went away after a very long energy-healing-session induced fever.
- Via apprenticing a Shaman in ayahuaska ceremonies, I experienced what it was like to sing, speak and see how other spirits do.
- I recalled life-changing parts of my childhood I had completely forgotten about and visions about my past lives that are hugely insightful to where my habits come from.

Oh, and I also fell in love, chopped off all of my hair, and almost died--a moment in which I asked myself, "why are you alive?" I answered it by embodying my life mission in every cell...I think that's the only reason I am still breathing now. I am breathing with a purpose, not just to produce more carbon and continue to drive wasteful human industries like fashion, agriculture and energy. No, I am breathing now for just the opposite reasons...this is the breathe we humans were meant to breathe, we are actually evolved to live in harmony with this earth.
Point is, I returned to the states with unprecedented clarity, focus and direction in my life mission to protect and heal wild places, wildlife and people through creative industries.
Current industries include: Cacao for Conservation, Cocktails for Conservation, and of course Fashion for Conservation (FashionforConservation.com). Each of these movements are taking off this year in new and exciting ways!
For example this summer we are building a cacao for conservation center in Peru, hosting three Cocktails X Fashion for Conservation (FFC) events this year, and adding an e-commerce component to FFC (also the next issue of FFC Magazine is the Amazon Rainforest edition!)

And to get this shit done...

WE NOW HAVE A BEAUTIFUL SEATTLE OFFICE AT THE RIVETER ON CAPITOL HILL!
The first photo in this blog post captures the feel of this space best, here are a few more: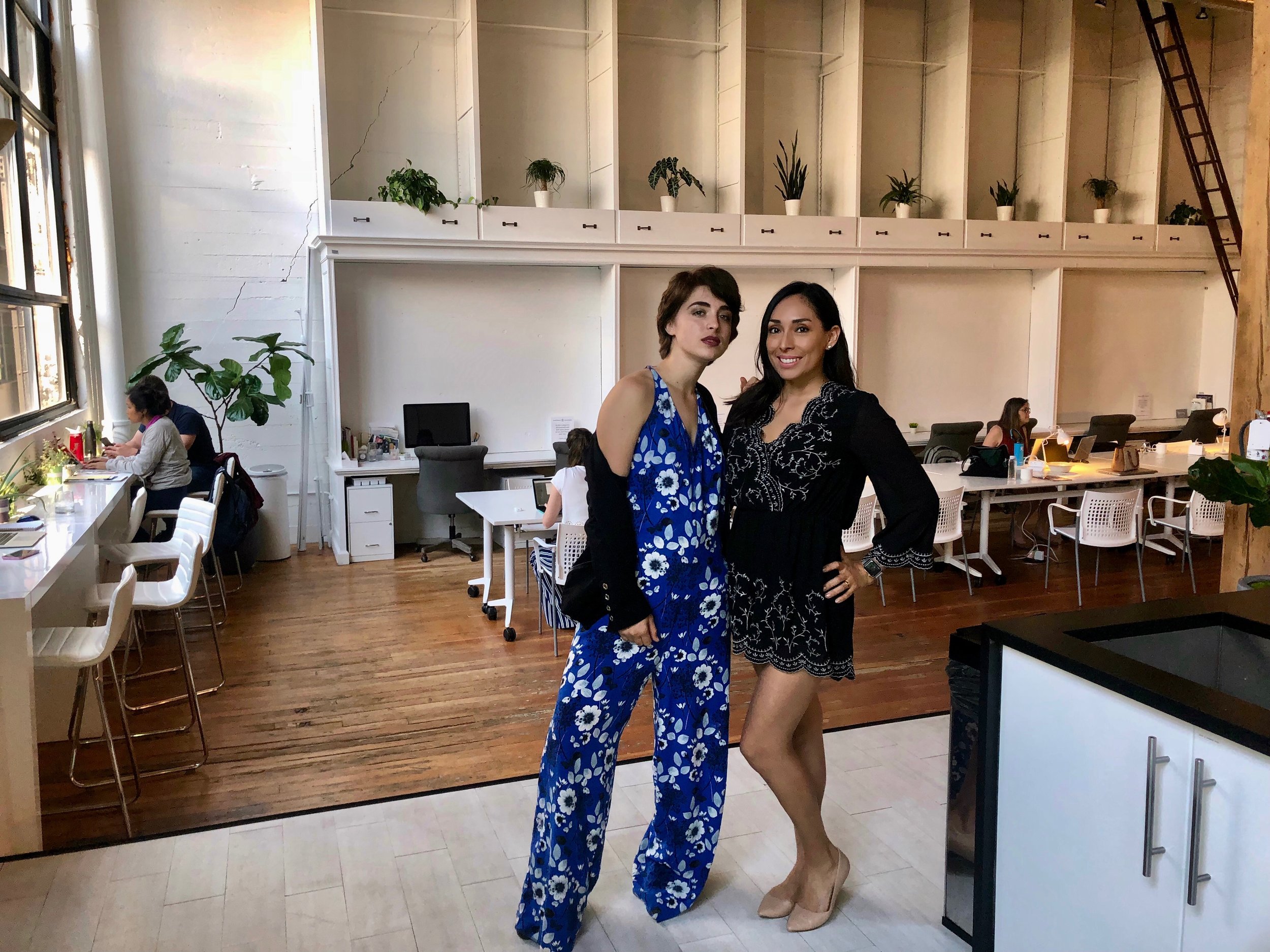 I love this female powered co-working place because it is filled with mission driven women entrepreneurs. They inspire me daily. Also there are lots of tropical plants in the office! Feels a bit like home...
Come visit us! We are located in Seattle's Capitol Hill and back in the actual Amazon at Hoja Nueva again this winter, November-February (hojanueva.org).
THANK YOU TO EVERYONE OF YOU WHO HAVE VISITED US AT HOJA NUEVA THUS FAR, THERE ARE NO WORDS I CAN WRITE HERE TO EXPRESS MY GRATITUDE FOR THE LIFE CLARITY AND LIFE LONG FRIENDSHIPS CREATED WHILE LIVING IN THE AMAZON...

More soon.
XOXO, A.
Photo Credit: Dawn Marie Jones
(First Photo: The Riveter)